PL/SQL DataType: Procedure to accepts a BOOLEAN parameter and uses a CASE statement to print Unknown if the value of the parameter is NULL, Yes if it is TRUE, and No if it is FALSE
PL/SQL DataType: Exercise-4 with Solution
Write a PL/SQL procedure to accepts a BOOLEAN parameter and uses a CASE statement to print Unknown if the value of the parameter is NULL, Yes if it is TRUE, and No if it is FALSE.
Sample Solution:
PL/SQL Code:
CREATE PROCEDURE use_of_boolean (bl BOOLEAN) AUTHID DEFINER
AS
BEGIN
  DBMS_OUTPUT.put_line (
    CASE
      WHEN bl IS NULL THEN 'Unknown'
      WHEN bl THEN 'Yes'
      WHEN NOT bl THEN 'No'
    END
  );
END;
/


BEGIN
  use_of_boolean(NULL);
  use_of_boolean(FALSE);
  use_of_boolean(TRUE);
END;
/


Sample Output:
Unknown
No
Yes

PL/SQL procedure successfully completed.

Flowchart: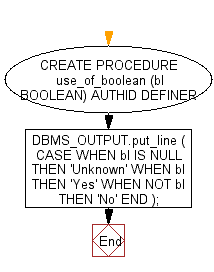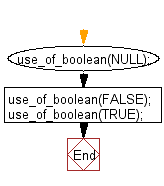 Improve this sample solution and post your code through Disqus
Previous: Write a PL/SQL block to differenciate between CHAR and VARCHAR2 datatype.
Next: Write a PL/SQL program to show the upper limit of PLS_INTEGER.
What is the difficulty level of this exercise?

---
---
Inviting useful, relevant, well-written and unique guest posts
---
New Content published on w3resource :
---